Tower Aluminium Group is one of the leading manufacturing businesses in Nigeria and has carved out a niche in the aluminium down stream products. 
Our corporate symbol, the TOWER , illustrates the Towering Success achieved with commitment to partnerships with our suppliers and customers and the communities in which we operate. We are committed to responsible business leadership and good governance, and to making a positive impact on the economy, environment, communities in which we operate.
Our Business
We manufacture and market high quality Billets, rolled Coils, Circles, Pots and Pans, Roofing and extruded aluminium products, which meet the needs of our customers in Nigeria and West Africa since 1959. Tower Aluminium Group, with the massive investments in a fully vertically integrated plant enjoys the benefit of being present in a long and a total value chain organisation in West Africa.
Tower operations are Vertically Integrated & group has following Operational Dynamics :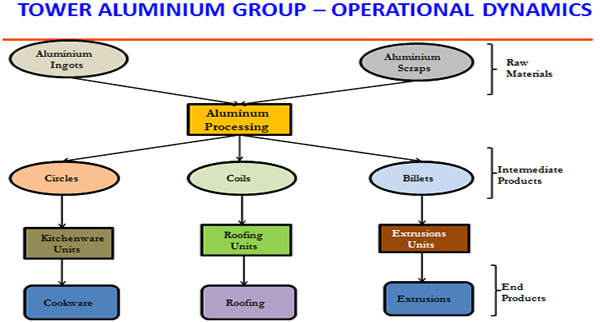 Our core purpose
Our core purpose is to consistently meet or exceed the reasonable expectations of our major stakeholders (which specifically include our employees, customers, suppliers, shareholders and the communities that surround us). We do this by creating value through the manufacture of high-value aluminium products as above. In doing so, we contribute to the upliftment of the standard of living in the region. 
Our vision
We continually seek to grow our business by satisfying the demands of our customers and supporting the growth of aluminium usage in our chosen market sectors. We aim to double the size of our business, within next five years. 
Our values
Mutual Respect
Working safely and responsibly
Honesty and Integrity
Customer Value
Teamwork
Our promises
Earn a reputation for excellent customer service.
Generate respectable profits in our operations.
Set the benchmark in our industry for safe and responsible manufacturing.
Assist all employees to uplift their skill levels.
The standards we set ourselves
Our success will be measured by the extent to which:
We are respected and admired by all our stakeholders.
We are regarded as an employer of choice.
We are filled with pride in our achievements.
We make the world a better place.