Extrusions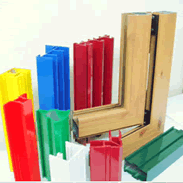 Tower Extrusions (TOWEREX) is a division of Tower Aluminium Nigeria PLC. Tower Extrusions has been a pioneer in Aluminium Extrusion with over twenty years of experience in extrusion business. It draws its strength from being part of the international group that are in extrusion business in Ghana, Kenya, Trinidad, Srilanka, Nepal, Jamaica and other countries.
One of the largest producers of extruded profiles in West Africa
ISO 9001..2000 certified  from NIS
Range of Products
Press Finish
Anodised Products
Powder Coated Products
Wood Finish Products
DIVISION / PLANTS
Tower Extrusions, Lagos
Aluminium Extrusion Industries Plc, Owerri
TECHNOLOGY

1. Extrusion Presses
Three extrusion presses 2000 MT, 1800 MT and 1200 MT
Annual production capacity 10,000 MT of aluminium extruded profiles.
2. Anodizing Plant
Silver, Light & Dark Bronze, Black & Gold colored anodised profiles.
Complete Computerised control of the anodising process to achieve film thicknesses of 5-25 microns.
Well equipped laboratory with trained and qualified staff
Ticked points (6.3) in 1& 4 of current page.
3. Powder Coating Plant
Two horizontal powder coating plants with annual production capacity of 4800 MT per annum.

We at TOWEREX have over 2000 dies both for our standard extrusions and customer specific sections.
We have various types of dies for multi track sliding doors and windows, projected and partitioning sections, furniture and bus body sections, photoframes and Sun Breaker sections etc.

Our product range is further enhanced by the availability of Tee Sections, Square Tubes, Round Tubes, Special Rectangular Tubes, Equal and Unequal Angles, U-Channels, Rods, I-Sections, Hexagonal Sections, Elliptical Sections in various sizes, dimensions and wall thickness.

 

ALUMINIUM EXTRUSION PRODUCT RANGE

PROFILES REQUIRED FOR FABICATION

SLIDING WINDOW

SLIDING DOOR

Tripple track
Double side jamb
Single side hamb
Top rail
Bottom rail


CASEMENT WINDOW

Specially designed customized sections
frames/ inner
mullium
divider


SIDE HUNG DOOR

Door frame & inner
Glazing Bead


SWING DOOR

100 * 45 rectangular tube
Lock style
Top & Bottom
Treshold
Bead
Dividing Mullium


OFFICE PARTITION

Partition Mullium
Partition Bead
Special Door Frame


CURTAIN WALLS

Big Mullium
Small Mullium
Transom
Underlay
Cover
Coupling Angle

NETTING/FLY SCREEN

Net frame - Side/Bottom
Net frame - Top
Net inner


FURNITURE

Balustrade
Plain square tube
Round surface finned tube
2 - Finned tube
3 - Finned tube

SHOP FRONT

Double finned tube
Single finned tube
Open finned tube
Cover
Glazing Bead

CASEMENT WINDOW

Special designed customized sections: Frame/Inner
Mullium
Divider


For Trade Enquiries Contact Us:
Tower Extrusions.
Lagos - Ota Road,
Dopemu - Agege, Lagos - Nigeria.
Tel. No: + 234-1-7762126

Email: towerex@gmail.com


Aluminium Extrusion Industries PLC,
Km 4, Atta Amaimo Road, Inyishi,
PMB 1581, Owerri, Imo State. Nigeria.
Tel. No: + 234 7059563776, 08033378956, 08057045922